Turkish style Spinach and Cheese Borek.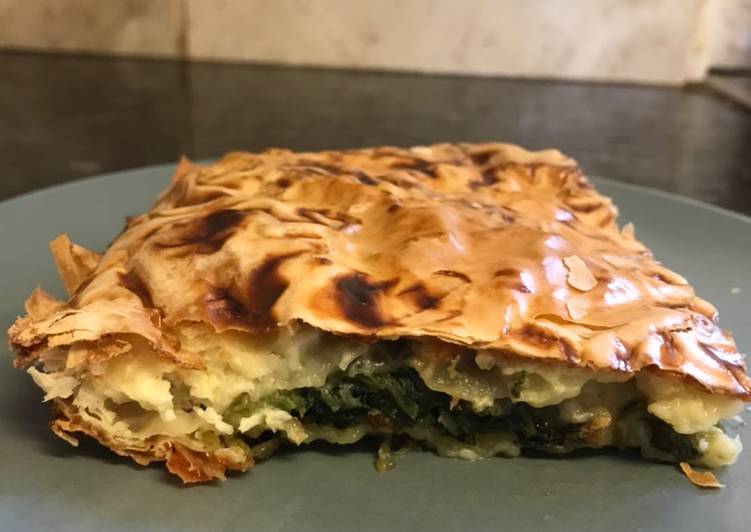 You can cook Turkish style Spinach and Cheese Borek using 9 ingredients and 9 steps. Here is how you achieve it.
Ingredients of Turkish style Spinach and Cheese Borek
Prepare 4 of eggs.
Prepare 500 grams of spinach.
You need 200 mls of milk (semi skimmed or whole).
It's of 100 grams grated mozarella.
It's 100 grams of grated cheddar.
You need 7 of Filo pastry sheets.
You need of Salt.
Prepare of Pepper.
Prepare of Vegetable oil.
Turkish style Spinach and Cheese Borek step by step
Use a wide-base pan to wilt the washed spinach. Add a pinch of salt..
Crack open 4 eggs into a bowl. Add the milk, pinch of salt and pepper and mix. Place the 2 grated cheese in a separate bowl..
Add a drizzle of vegetable oil to a large baking tray (ideally a pyrex glass tray) and spread it evenly with a brush, including the sides of the tray to avoid the pastry from sticking. Then place 2 sheets of filo pastry so that it is partially hanging out from the sides of the tray..
Put enough egg-milk mixture onto the filo pastry to cover it and spread it out evenly..
Then place wilted spinach evenly, followed by grated cheese.
Fold the sides of the filo pastry..
Place 2 new filo sheets on top and repeat the steps 4-6. I usually do 3 layers in total. Save a small amount of the egg-milk mixture for the very top layer..
When you reach the last layer, fold the sides and then place a single filo sheet on top to cover it. Add small amount of egg-milk mixture on top to wet the sheet. This will protect it from burning..
Place the tray into a pre-heated oven at 200 degrees for 35-40 minutes until top layer is golden and the pastry has fully cooked top and bottom. Serve in pieces of rectangles..