Parwal Dolma (Stuffed pointed gourd).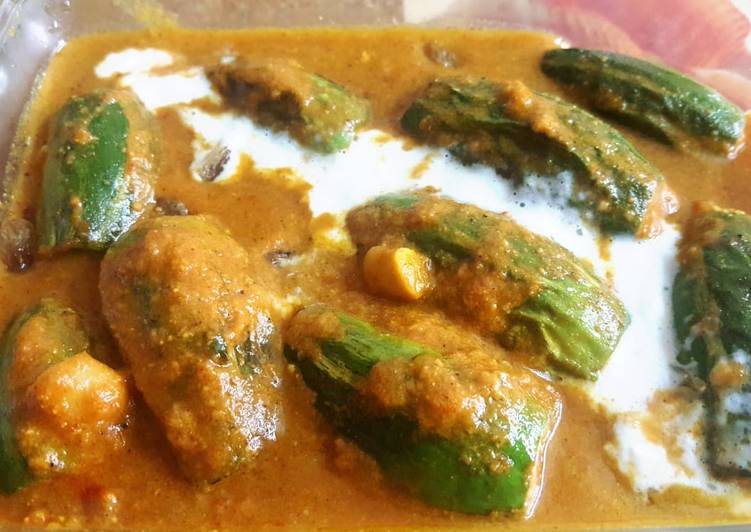 You can cook Parwal Dolma (Stuffed pointed gourd) using 19 ingredients and 5 steps. Here is how you cook that.
Ingredients of Parwal Dolma (Stuffed pointed gourd)
Prepare 10 of parwals.
Prepare 500 ml of milk.
It's 1 1/2 tsp of lemon juice.
You need 11/2 tbsp of raisins.
You need 10 of cashewnuts.
It's 4 tbsp of refined oil.
You need 1 tbsp of ginger paste.
You need 1 tbsp of fresh cream or malai.
It's 1/4 tsp of haldi/turmeric.
You need 1 of tomato pureed.
It's 1 tbsp of sesame seeds.
It's 1/4 tsp of red chilli powder.
It's 1 tsp of kitchen king masala.
It's 5-6 of cloves.
Prepare 3-4 of cardamoms.
You need 1/2 inch of cinnamon stick.
You need To taste of salt.
Prepare Pinch of sugar.
Prepare 1/2 tsp of garam masala.
Parwal Dolma (Stuffed pointed gourd) step by step
Scrape lightly parwals and cut both ends slightly. Take one parwal and with the sharp end of a spoon scoop out the seeds.Discard seeds reserving the fleshy part inside.Fry the parwals and set aside..
Boil milk in a pan and when it boils pour the juice of lemon and let it boil for sometime on low heat till milk curdles and whey separates.Pour some water and let it stand for sometime.Strain the paneer through a strainer or muslin cloth.The whey can be used for making curries.Store bought fresh paneer may also be used..
Mash the paneer and the fleshy part of parwal inside.Add little salt,sugar,ginger,roasted cumin seed powder and little all purpose flour.Heat 1 tbsp oil in a nonstick pan and lightly fry the paneer and add some raisins.Stuff this mixture inside the scooped out parwals..
Make a paste of sesame seeds,4-5 cashewnuts,malai, 1 tomato chopped and ginger paste.Heat oil and add half crushed garam masala.When they splutter add the paste,little haldi,red chilli powder,kitchen king masala and fry.Add salt to taste,little sugar and fry.Lightly place the stuffed parwals in the masala and add half cup water or whey and boil for sometime taking care that the stuffing doesn't come out.Sprinkle few half broken cashewnuts and raisins and little garam masala..
Garnish with fresh cream and 1 tsp ghee.Serve with pulao or jeera rice or tandoori roti..