Chocolate, Turkish delight and pistachio phyllo parcels. I recently saw something like this in the Pour prepared mixture into this form, let it cool and refrigerate until firm. Using hot knife cut lokum into desired squares, dust in cocoa-espresso powder. Turkish delight recipe can be made at home with a few basic ingredients.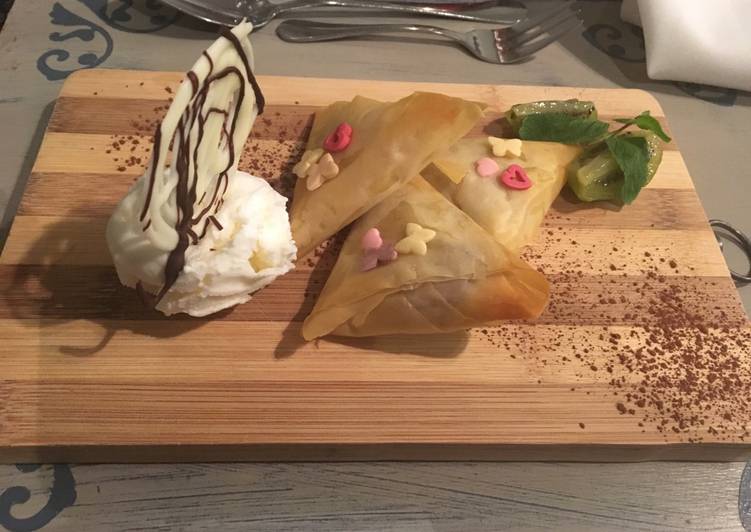 It should be a deep one to give your Turkish delight enough thickness. Turkish Pistachio baklava using phyllo sheet. You are going to love these easy version of crunchy baklava with the phyllo sheets. You can cook Chocolate, Turkish delight and pistachio phyllo parcels using 5 ingredients and 4 steps. Here is how you achieve it.
Ingredients of Chocolate, Turkish delight and pistachio phyllo parcels
You need 50 g of melted butter.
You need 100 g of Turkish delight cut into small cubes.
Prepare 100 g of dark chocolate, milk chocolate or white chocolate.
It's 50 g of pistachios.
It's 1 pack of Phyllo sheets cut into rectangular strips.
If you want to use less. Pistachio Turkish Delight Candy (Lokum or Loukoum), a genuine Turkish treat, is one of the most delectable sweets in the world and was discovered by the legendary Hazer Baba. Covered in a layer of milk chocolate, these Turkish Delights are sure to satisfy any sweet tooth. This Raspberry-Pistachio Turkish Delight is worlds better than anything you can buy in stores!
Chocolate, Turkish delight and pistachio phyllo parcels step by step
Cut the phyllo sheets into 3 long rectangular strips (double layers).
Add your chosen filling at the bottom of each strip and fold like a samoosa(like a triangle). Brush the edges with the melted butter..
Bake in a preheated oven at 180 degrees C, for 10 minutes. Serve warm with ice cream, fresh fruit and a dusting of cocoa..
Enjoy! :).
It's got this amazing fresh raspberry puree and toasted pistachios that When it's finished cooking remove it from the heat and stir in the raspberry extract (if using), the rosewater, and the chopped pistachios. Turkish Delight Chocolate with Roasted Pistachio. a. While the chocolate is still warm, sprinkle over the hazelnuts, pistachios, Turkish delight and some sea salt flakes. Recipe from Finger, Fork & Knife by Kate Olsson, with photographs by. Easy homemade chocolate turkish delight recipe.