Spicy Doner Kebabs.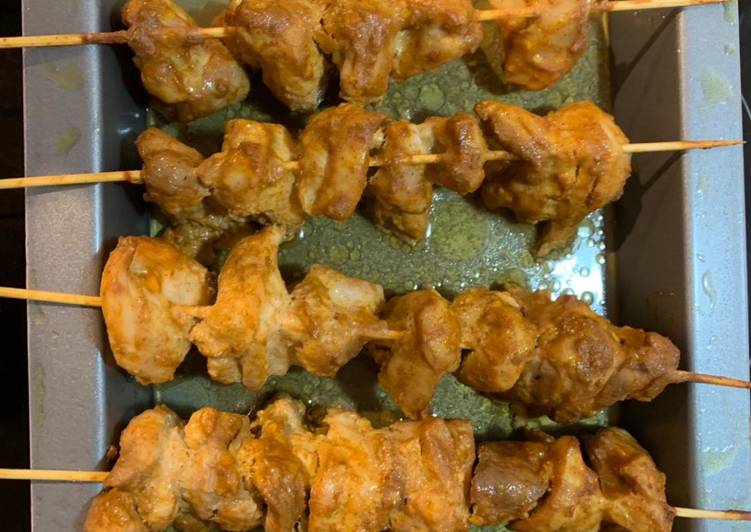 You can have Spicy Doner Kebabs using 16 ingredients and 10 steps. Here is how you achieve that.
Ingredients of Spicy Doner Kebabs
It's 1 kg of chicken thighs or breasts (I prefer thighs).
You need of Marinade:- 1 cup yogurt (Greek yogurt preferred) but it's up to you.
Prepare 1-2 tbs of garlic or 3-4 garlic cloves.
It's 1 tsp of coriander powder.
Prepare 2 tsp of Cumin powder.
You need 1 tsp of paprika but you can put 1 or 2 tbs of it if you like it spicy (like me!).
Prepare 2 tsp of cayenne pepper.
It's 1 1/2 tsp of onion powder.
Prepare 1/2 tsp of black pepper.
It's 1 1/2 tsp of salt.
You need 1 tsp of Garam Masala (optional).
Prepare 1 tbs of lemon juice.
Prepare 1 tbs of olive oil or your preferred oil.
You need of For Serving:- Pita bread / wraps or your preferred bread to serve with the chicken.
Prepare of Your choice of veggies to go in the wraps, I prefer red or green peppers, onions.
It's of Sriracha acha sauce to make it more spicy or Mayo.
Spicy Doner Kebabs step by step
Cut the chicken into pieces so that they can be put on skewers or leave them whole and cut them after they are cooked.
1. Mix Marinade in a large bowl. Add chicken and mix to coat well. Marinade:- yogurt, all the spices, garlic, lemon juice and oil.
2. Cover and marinate in the fridge for a minimum of 3 hours to 24 hours. I prefer to do it for couple of hours. So I put the chicken in the marinade in the morning and use it in the eve for dinner.
3. Preheat oven to 220C / 430F (standard) or 200C / 390F (fan / convection).
Remember to put skewers in warm water before using (I have no idea why! Lol).
Take the chicken out of the fridge and thread the pieces onto the the skewers. Usually 10 skewers are enough for this amount of chicken.
Bake for 35 minutes or till it's cooked. I usually have to turn on the grill so that the surface is golden with some charred bits..
Optional:- Spoon the pan juices over the chicken. Then turn, drizzle with oil and bake for 20 minutes.
Tahbouleh bunch of curly parsley 1/2 red onion and capsicum. a As I don't eat tomatoes but my husband does. So I put a small tomato but you leave out the wet juicy seedy bit and try to just put meaty flesh in a separate bowl ). salt cracked pepper lemon juice (probably about a tablespoon) and olive oil (I used the chilli one last time, yum) you need to balance the oil and acid, don't put more oil than lemon juice!.
Serve with pita bread or your choice of bread (parathans).