Turkish Feta Cheese Parcels.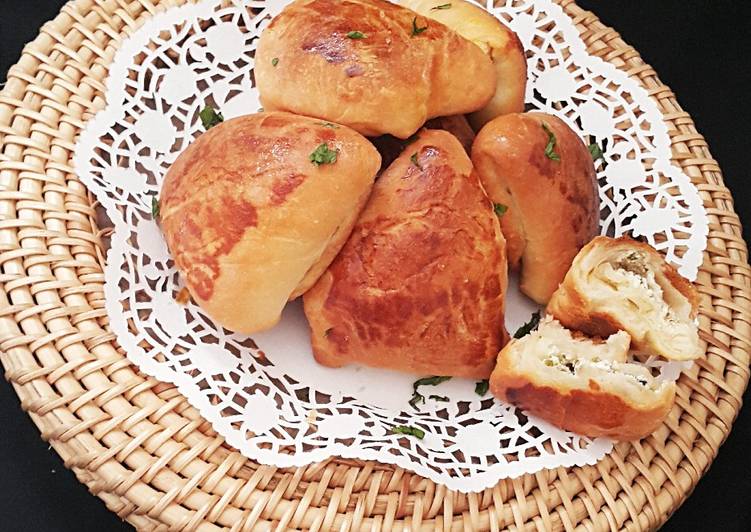 You can have Turkish Feta Cheese Parcels using 15 ingredients and 30 steps. Here is how you cook that.
Ingredients of Turkish Feta Cheese Parcels
Prepare 5 cups of All propose flour.
Prepare 1 cup of regular warm Milk.
You need 1 cup of warm Water.
You need 3/4 of th cup Olive oil or any other Vegetable oil.
Prepare 1 cup of Yoghurt/curd.
Prepare 2 tablespoon of Sugar.
You need 1 teaspoon of Salt.
It's 1 teaspoon of dry active Yeast.
It's 100 gm of melted Butter.
It's 1 tablespoon of Olive oil.
You need 1 of Egg yolk to brush/for vegetarian use milk for brushing.
Prepare of For Stuffing.
It's 200 gm of Feta Cheese.
You need 1 handful of chopped Parsley or Coriander leaves.
It's 6-7 of chopped Olives.
Turkish Feta Cheese Parcels step by step
Take 1cup of warm water and 1 cup of warm milk in a container..
Add 2 tablespoon of sugar and 1 teaspoon of yeast..
Mix and keep aside for 8 to 10 minutes to broom the yeast..
When yeast brooms transfer the mixture to a big mixing bowl..
Add oil,yoghurt (normal temperature) and salt to the yeast mixture..
Mix well with a fork and slowly add maida or all purpose flour..
Add 1 cup maida at a time and mix until a very soft and sticky dough forms.I used 5 cups of flour total, you may have little less or more..
Cover the dough and keep in a moderately hot place for 2 hours or until the dough becomes double in size..
In the meantime for the stuffing take feta cheese,chopped parsley/coriander leaves, chilli flakes and olives in a bowl..
Mix everything well and keep aside..
When the dough becomes double in size take out in a flour dusted working surface of kitchen..
Knead for few minutes and then make large lemon size balls. I made 12 balls out of the dough..
Take 100gm butter in a saucepan with 1 tablespoon of olive oil..
Heat them to melt and keep aside..
Take a ball and roll it to make a thin round sheet/roti..
Transfer to another place and spread some melted butter with a brush to the surface of the roti..
Make another roti and spread over the 1st roti..
Again spread some melted butter over the roti..
Repeat the process for total 6 times to make 6 layers of roti with melted butter..
With your hands press and spread the layered roti to make it thin..
Also use a rolling pin to make the roti thin and big..
Now cut the sheet/roti with a knife as shown in the picture..
Take one portion, spread a little and stuff 1 tablespoon of prepared feta cheese mixture..
Fold the sheet to make a parcel..
Keep it in lined baking tray..
Like this make other parcels as you like. There is no definite shape to make, make the parcels as you like..
I also make them as shown in the picture..
Keep all the parcels in the baking tray and brush with beaten egg yolks..
Keep aside the tray again for 20 minutes and then bake them in a preheated oven at 200 degree C for 20 minutes or until they become golden brown..
Enjoy these super delicious Turkish parcels with a cup of coffee or tea..